The Blog Cabin
Posted by Oliver Sweatman on
We're proud to be the one of the first Plastic Negative clean skincare brands! In partnership with rePurpose Global, we're removing two plastic bottles from nature for every bottle we sell, as part of our mission to help raise the bar for responsibility in our industry. Turning Negatives Into Positives Plastic waste is a problem: 91% of plastic waste ends up in landfills, is incinerated, or flushed into our rivers and oceans, where it breaks down into harmful microplastics. The good news? There are simple, sustainable ways we can help. Step one: becoming plastic negative by removing more plastic than...
Posted by Oliver Sweatman (admin) on
If you've been searching for the best all-natural deodorant then you're in luck because there are some good options out there, including Schmidt's, Agent Nateur, Native, Kopari and our own Ursa Major deodorant. To help you sort out which all-natural deodorants are actually worth trying, and determine how to choose the right deodorant for you, we've created a simple, step-by-step guide: 1. Aim for deodorants with 100% naturally-derived ingredients. The vast majority of deodorants out there are formulated with irritating, unhealthy synthetic chemicals. That's why it's important to look for safe, naturally-derived ingredients - e.g. ingredients sourced from plants, trees,...
Posted by Christine Mitchell Adams on
We first became acquainted with the Salmon Sisters via Instagram when we stumbled onto their profile through mutual friends. We've been big fans of these two amazing women and their brand ever since. Sisters Claire and Emma Teal are from a fishing family in Alaska and their childhood revolved around the fishing season. After attending university on the East Coast, the sisters returned home to help build their family's fishing business and promote awareness for sustainable fisheries. From these shared goals they created Salmon Sisters. Keep reading to learn more about their idyllic childhood in remote Alaska and how Salmon Sisters is striving to make a difference while celebrating a valuable culture.
Posted by Afterpay Key on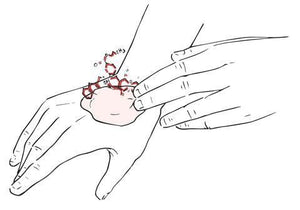 This is part two in a series of posts exploring toxic chemicals in personal care products. See part one of our "Toxics" series here.
Over the past fifteen years, more than 10,000 Americans have had their blood tested by the U.S. Centers for Disease Control and Prevention (CDC) in an attempt to determine their "chemical body burden." The results of the CDC study were stunning: even those who lived in remote areas were found to have hundreds of synthetic chemicals in their bloodstream. More disturbingly, this chemical exposure begins even before we take our first breath— an astounding 287 chemical toxins have been detected within the umbilical cord blood of newborns.
Posted by Afterpay Key on
You've probably heard the term "toxins" a lot lately (maybe a little too much!), and at this point you know they're best avoided. But what exactly are these "toxins" and what dangers do they pose? We've partnered with a physician and an environmental toxicologist to learn more about these toxic substances and to ensure that the information we're providing is the most accurate and up-to-date.