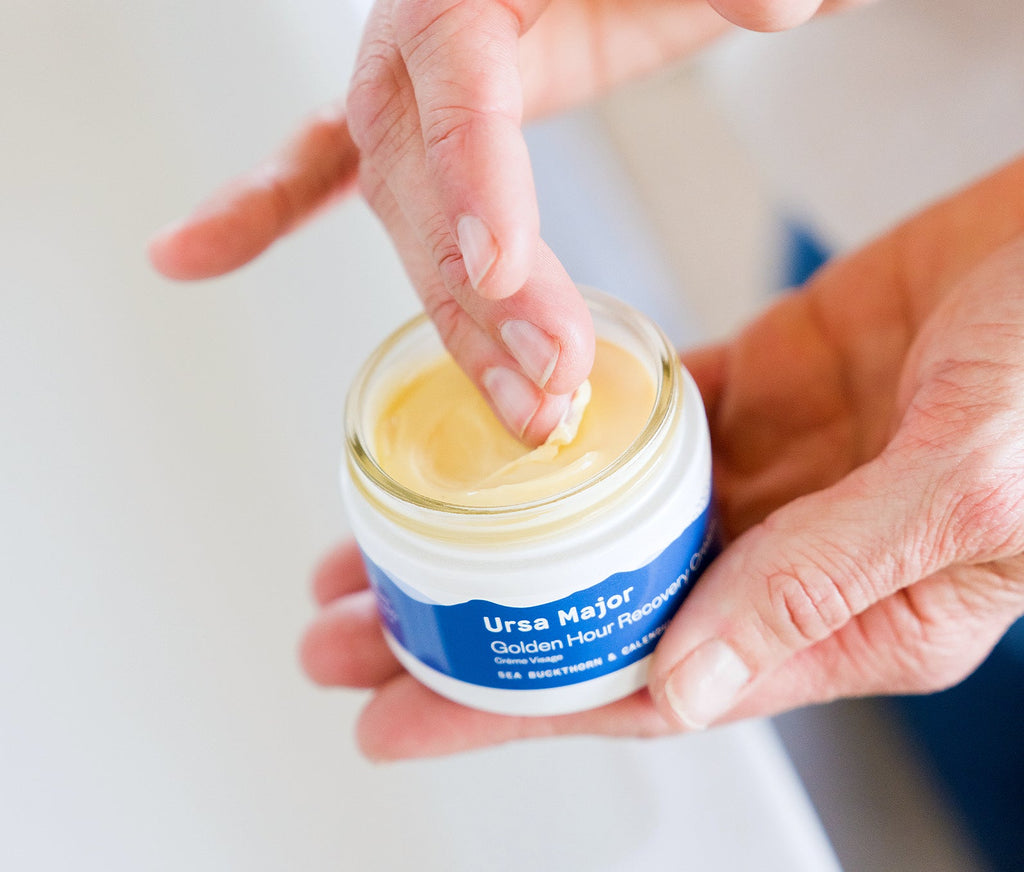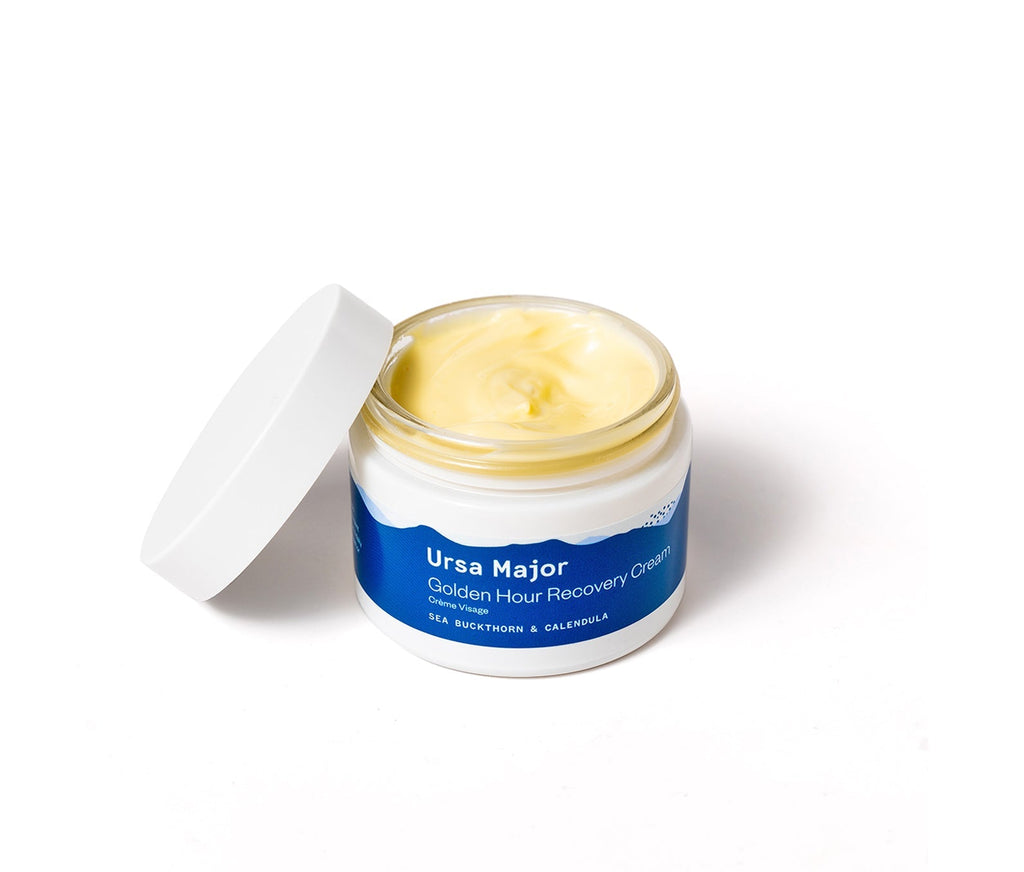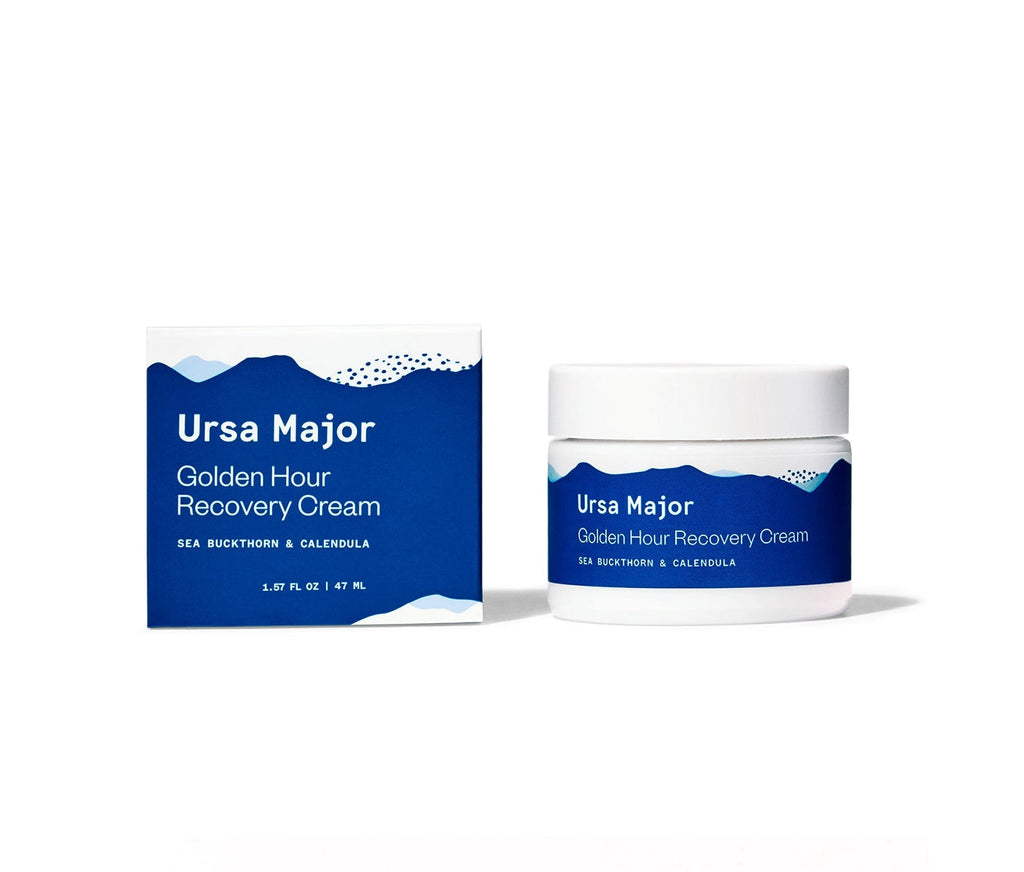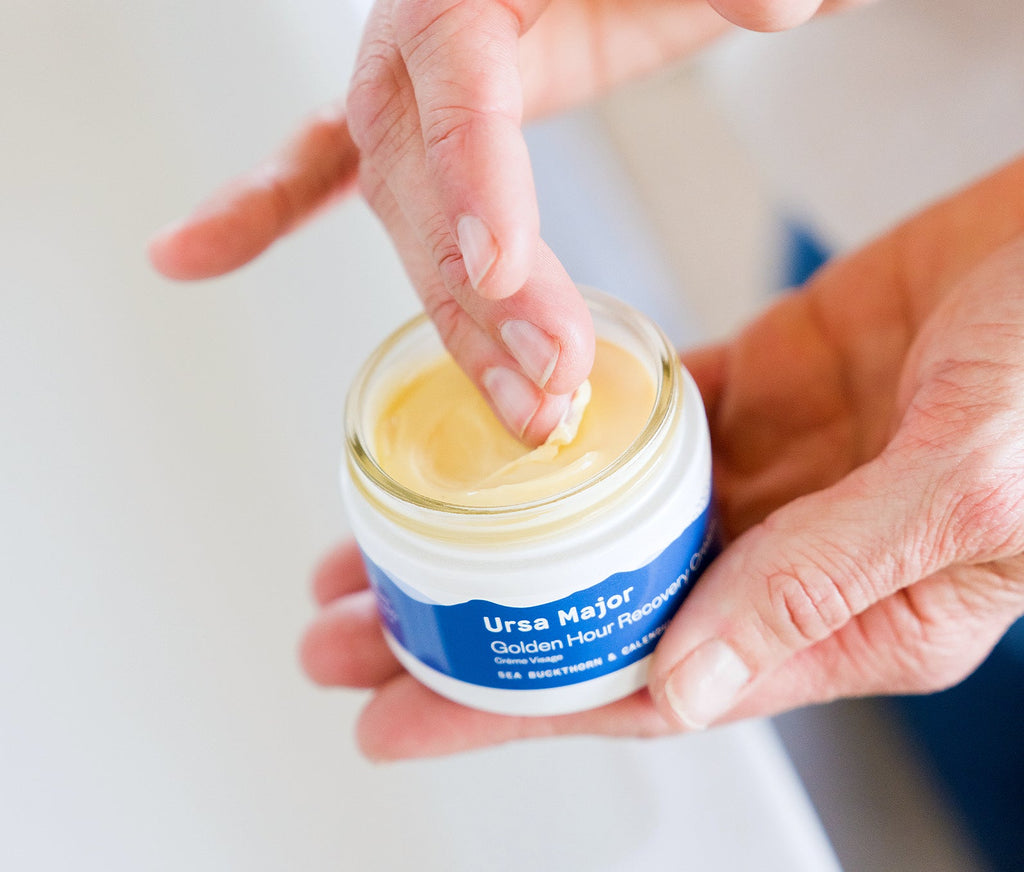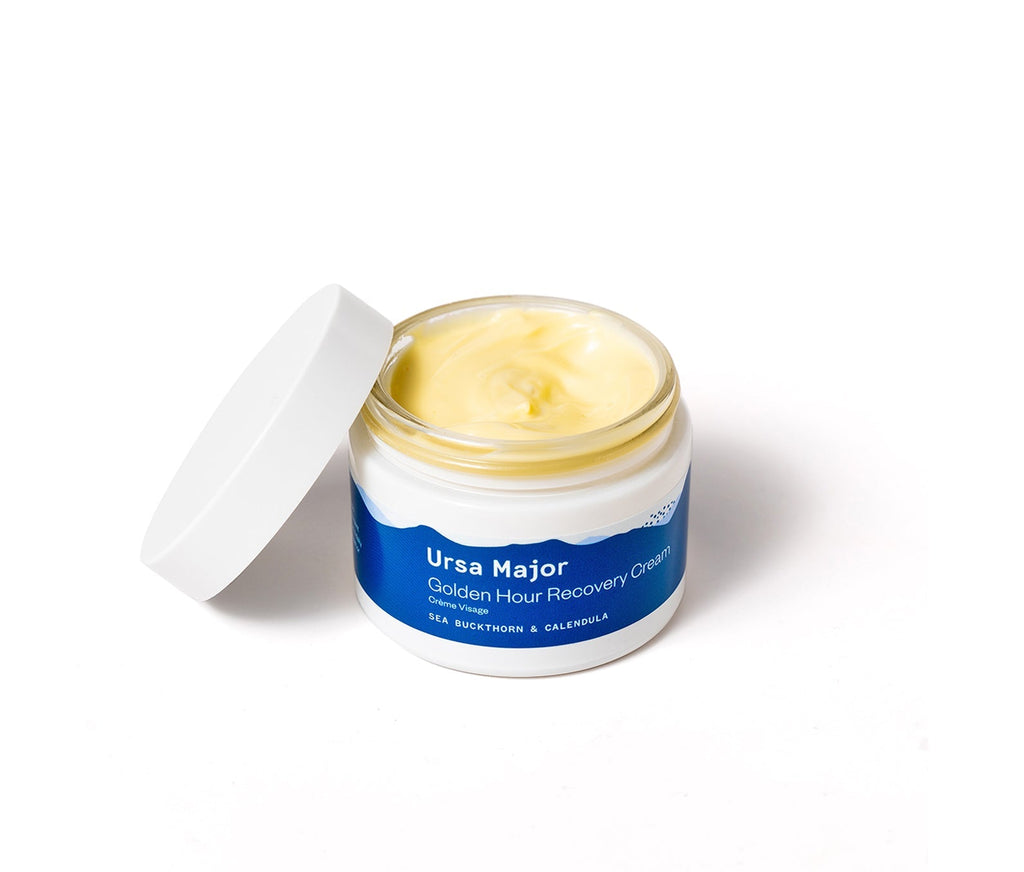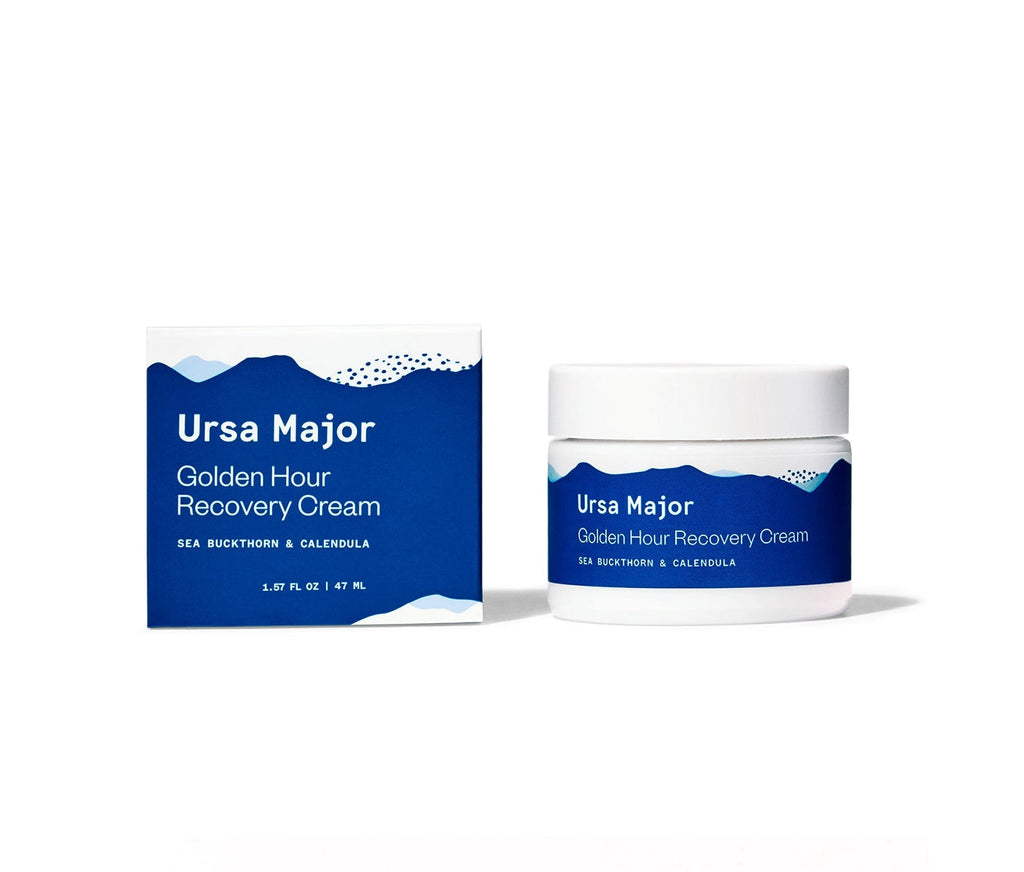 Golden Hour Recovery Cream
This wonderfully rich face cream sinks right into skin, providing deep hydration and nourishment on contact. Soothing and replenishing for all skin types, we love Golden Hour as a daily moisturizer, a wrinkle-reducing night cream, or as your year-round any-time skin saver. 
Enjoy 10% off forever
Get free shipping
Adjust, pause or cancel anytime
Free Domestic Shipping
Free & Easy Returns
Love It Guarantee
---
Bundle & Save 10%
Why It's Special
Deeply nourishing
This daily cream delivers a dose of skin nutrients, with antioxidants, vitamins A, C, and E, and essential fatty acids like omega 3, 6, 7, and 9 oils. Whether you use it day or night (or both) your skin will thank you.
Luxurious feel
Golden Hour is the Goldilocks of moisturizing creams—not too heavy, not too light. Its fast-absorbing water-based formula hydrates deeply, leaving no greasy residue behind—just oh-so-soft skin.
Gentle on all skin
We let these ingredients do what they do best, without adding any irritating chemicals or unnatural scents. The result is a gentle formula that calms redness, evens out skin tone, and soothes eczema-prone skin.
Eases fine lines
Ingredients like Calendula, Sea Buckthorn, and Black Currant help skin retain moisture, firmness, and elasticity, supporting a naturally smooth, lively look for well-loved skin.
Refreshingly Different
Nothing to hide here. Just naturally awesome ingredients that help you achieve your healthiest, happiest skin.

Not too heavy
Combats signs of aging

Reduces redness

Clean ingredients

Certified Plastic Negative

Vegan & cruelty-free
"If I could only use one cream for the rest of my life, it would be this."
"It was love at first swipe."
"They nailed it with this one."
"Ensures your skin stays hydrated, radiant, firm and wrinkle-free."
"Deliver[s] a dose of hydration that makes your skin look fresher and healthier right away."
Pure, Powerful Ingredients
Formulated without petrochemicals, sulfates, parabens, synthetic fragrances, or other suspect chemicals.
Sea Buckthorn
Remarkably rich in antioxidants and omega fatty acids; strengthens skin's moisture barrier and provides intense hydration
Black Currant
High in essential fatty acids and Vitamin C; helps improve the appearance of skin's firmness and elasticity
Calendula
A natural source of carotenoids; soothes and conditions skin
Sunflower
Extremely high in linoleic acid which helps skin retain moisture
Sandalwood
Hydrates, tones and soothes
Rose
Helps reduce the appearance of redness
Click or tap on an ingredient to learn more
How to Use
Reach for Golden Hour in the morning, as a luxurious night cream, or anytime in between. Apply after cleansing and toning, or any serums you might use.
FAQ
Q: Is Golden Hour Recovery Cream the moisturizer for me?
A: We've found Golden Hour Recovery Cream to be a great fit for all ages and skin types. Our richest moisturizer, Golden Hour works wonders as a daily moisturizer for those with normal to dry skin types, or as a recovery cream for any skin that's been out in the elements.
If you have oily to combination skin, or your skin simply craves a lighter touch, Fortifying Gel Moisturizer is another great option.
Q: How and when do I use this product?
A: Thanks to a water-based formula that absorbs quickly without a trace of heaviness or greasy residue, Golden Hour might quickly become your new favorite moisturizer. Use it as a daily moisturizer after cleansing and toning (or any serums you might use), as a luxurious night cream, or anytime your skin needs extra TLC.
Don't forget to pair Golden Hour with SPF protection (we're partial to our Force Field SPF 30) before heading outdoors.
Q: Can I use Golden Hour around the eye area?
A: Of course! Golden Hour is completely safe for use around the delicate eye area and highly effective for moisturizing this region of the skin. You may also be interested in our eye-specific Forest Alchemy Eye Cream—which works to reduce the appearance of fine lines and wrinkles, ease up dark circles, de-puff, and hydrate.
Q: How do I recycle this product?
A: When you run out, just give the glass jar a rinse and recycle it at home. The lid is not widely recyclable at this time.
Q: What is the aroma?
A: A mild blend of sweet neroli, sour rose, and spicy sandalwood.
Golden Hour Recovery Cream Reviews
Frequently bought with this product